Brian Duffy, Senior Professor of Martial Arts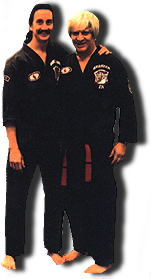 Brian Duffy was inducted into the World Martial Arts Hall of Fame and elevated to The American Kenpo Senior Council Executive Committee both in 1997. He has also recently been promoted to 7th Degree Black Belt by the AKSC. Mr. Duffy is a Five-Time Champion of Mr. Parker's Long Beach International Karate Championships, and currently owns the oldest full-time professional school of Martial Arts in Austin, TX.
Mr. Duffy began his training in Kenpo Karate in 1970, and in 1972 began training directly under Gary Swan, President of the National Chinese Kenpo Karate Association. The NCKKA was the first Kenpo Association to separate from the IKKA with Mr. Parker's blessing, and eventually Mr. Duffy became its Vice-President in 1978. Since 1972 Mr. Duffy has competed in over 124 Tournaments and won 157 trophies (major awards listed below).
In 1987 Mr. Duffy began studying directly under Mr. Parker and later joined the IKKA. In 1989 Mr. Parker promoted Mr. Duffy to Fifth Degree Black Belt and began involving Mr. Duffy in projects for the IKKA such as the development of a standardized children's curriculum and revision of the IKKA belt charts and manuals. Mr. Duffy has since authored the Restructured 16 Technique Curriculum currently in use and widely accepted by Kenpo schools all over the world, and has also Sponsored the 1994 Texas Training Camp which saw the birth of the AKSC, as well as developed the Kenpo Long Staff Seminar and Curriculum incorporating Kenpo Techniques and Principles.


Questions? Comments? Email Mr. Duffy.
Copyright 1998 Brian Duffy's Kenpo Karate.

can build a site for you too.
Contact us about your design needs.